Experts: How Do I Come Up With a Successful Business Idea?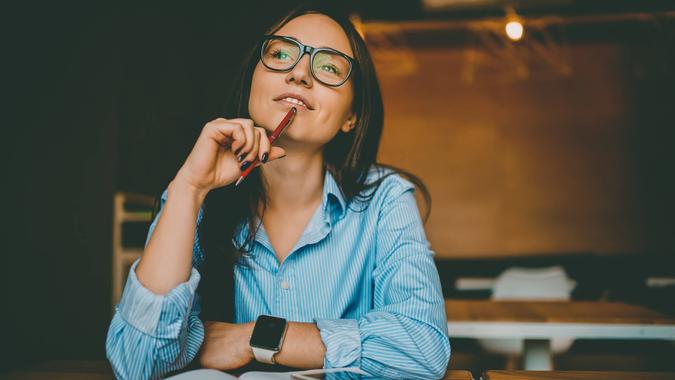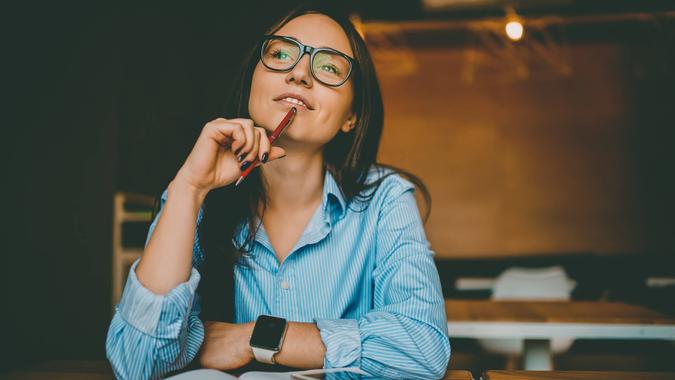 GaudiLab / Getty Images/iStockphoto
You may have the entrepreneurial spirit but not know exactly what kind of business you want to start. Whether you plan to sell a product or offer a service, it's important to know whether whatever idea you plan to pursue is actually viable.
Here It Is: Our 2022 Small Business Spotlight
Find Out: 9 Bills You Should Never Put on Autopay
To help you out, GOBankingRates spoke with entrepreneurs and business owners, as well as those that invest in businesses, to share their tips for coming up with a successful business idea.
Get Inspiration From Your Everyday Life
Marnie Rabinovitch Consky founded Thigh Society, an undergarment brand offering multiuse shorts for women, because she saw an opportunity to innovate in an underserved market.
"Get inspiration from your everyday life," she said. "What products or services do you wish existed but don't? Or, how would you improve on what's already out there?"
If a product or service already exists, research how it's marketed and who it's marketed to.
"Is the value proposition clear? Who are the competitors? What are the strengths, weaknesses and opportunities for this product or service?" Rabinovitch Consky said. "If it doesn't exist, you can still go through the same exercise."
Take Our Poll: Do You Tip for Service?
Create a Business That Solves a Problem
Sean Kelly, founder of the blue-chip NFT collection and project Chibi Dinos, believes that the best business ideas are the ones that solve a problem.
"The bigger the problem you can solve, the greater the impact you can have," he said. "I've started several businesses before. My first one was a jersey company called Jersey Champs. Six years ago, it was very hard to make a custom jersey, as there were only sports jerseys. I figured out how to make them customizable so people could put whatever they wanted on them. During the pandemic, I sold masks and gowns to hospitals and government organizations. During this NFT/crypto craze, I started Chibi Dinos, which was the first basketball play-and-earn game on the market."
Start a Business That Aligns With Your Skills and Interests
"Perform a self-audit of your experiences, skills and passions," said Brian David Crane, founder of Spread Great Ideas, a digital marketing fund that invests in e-commerce businesses. "Look for opportunities that cross over between them."
When performing this self-audit, Blaire Brown, founder and CEO of Visionary Advantages, a brand strategy group that specializes in helping entrepreneurs and businesses with their marketing and branding initiatives, recommends asking yourself the following questions: "What are you awesome at? Is there anyone that could use help in that area? What do you get excited about? Is there a bigger purpose behind what you do already and why you do it?"
"These questions are going to start getting the entrepreneur's creative juices flowing," she said. "It will just be a matter of narrowing it down at the end to find the sweet spot!"
Make Sure There Is a Market for Your Product or Service
Mada Seghete, co-founder and CMO of Branch, a mobile linking and attribution platform, said that "finding the ideal market and the ideal customer is a critical first step to determine the viability of any business idea."
"While this may seem obvious, many entrepreneurs skip over confirming product-market fit, thinking if they build a great product or great business, that customers will materialize," she said. "If you have your ideal customer pegged, for true product-market fit, 9 out of 10 should actually be willing to purchase your product when asked."
Ask For Feedback
"You'll need feedback from potential customers, investors and employees before launching your business," said Loran Marmes, owner of Medicare Solutions Team. "You can ask for input by conducting focus groups or surveys with potential customers and investors. You can also hire an accountant who will help you analyze the financial viability of your business idea."
You can also get quick feedback via social media, Kelly said.
"You can do polls on Twitter and Instagram," said the Chibi Dinos founder. "I used to do this whenever I was releasing a new piece of apparel to see how the market would respond to it."
More From GOBankingRates